The ultimate guide to the best beaches in Ibiza
From hidden gems to party hotspots
Cala Comte (Cala Conta)

Benirràs

Talamanca Beach
Cala Bassa
Cala Salada
Cala Saladeta
Aguas Blancas
Las Salinas
Cala d'Hort
Cala Vadella
Cala Xarraca
San Antonio Beach

Playa d'en Bossa

Es Cavallet
Cala Jondal
Welcome to Ibiza, the island of sun-drenched days, azure waters and an endless coastline that offers something for everyone. Whether you're looking for serene escapes, breathtaking scenery or vibrant parties, Ibiza's beaches have it all. In this handy guide, we share Ibiza's best beaches with you. 
1. Cala Comte (Cala Conta) – Perfect Sunsets
Why visit: Known for its mesmerizing sunsets, Cala Comte offers breathtaking views of the Mediterranean Sea. Relax on the white sand beach and enjoy the splashes of color as the sun slowly disappears behind the horizon.
What to do: Have dinner at sunset Ashram, take a dip in the clear waters, and enjoy the lively atmosphere.
Cala Comte is not just a place; it is an experience. As you feel the soft sand under your feet and the warm breeze of the Mediterranean blowing through your hair, you will understand the enchantment of this beach. The sunsets here are legendary. Locals and visitors alike gather to watch the sky turn a palette of warm hues, from orange to pink, as the sun slowly disappears. 
Restaurant – Sunset Ashram
Nestled on the cliffs overlooking Cala Conta, Sunset Ashram is a serene escape offering one of Ibiza's most captivating experiences. As the sun dips below the horizon, casting a warm golden hue, Sunset Ashram transforms into a spiritual retreat and a sought-after spot for witnessing the perfect sunset. As the sun sets, you'll see why Cala Comte is often considered one of the most romantic spots in Ibiza.
2. Benirràs Beach: Drums at Sunset
Why visit: This cove is known for its Sunday drum circles at sunset. The mystical atmosphere and the surrounding pine forest make Benirràs a unique destination.
What to do: Come on Sunday nights to enjoy the drum circle, or visit on other days for tranquility and crystal clear waters.
Drum circles
Benirràs Beach it is a celebration of community and connection with nature. The Sunday drum circles at sunset are legendary and attract people from all over the world. Under the shade, drummers gather on the beach to create a rhythmic soundtrack to the descending sun.
On these evenings, you can feel the energy of the crowd as everyone comes together in a harmonious ritual. It is an experience not to be missed if you are looking for the unique spiritual side of Ibiza.
3. Talamanca Beach – Close to Ibiza Town
Why visit: Known for its serene ambiance, Talamanca Beach offers a peaceful escape close to Ibiza Town. Relax on the soft sands and bask in the tranquility as you gaze out over the crystal-clear waters.
What to do: Indulge in seaside dining at one of the beachfront restaurants, take a refreshing swim in the pristine waters, and savor the laid-back atmosphere.
As you stroll along the shoreline, feeling the gentle sand beneath your feet and the soothing Mediterranean breeze, you'll discover the allure of this beach. The tranquil vibes are especially inviting. Locals and visitors alike gather to experience the serene setting, making it an ideal destination to unwind and appreciate the beauty Ibiza.
Restaurants
There is plenty of choice from of top-notch beachfront restaurants, inviting you on a gastronomic journey by the shore. Sa Punta is a standout choice, known for its sophisticated Mediterranean menu. Indulge in fresh seafood and inventive dishes while basking in the breathtaking sea views from Sa Punta's terrace. Talamanca Beach Club is another gem, offering a fusion of Mediterranean flavors in a laid-back yet stylish setting. The beachfront ambiance adds an extra touch to the delightful dining experience.
4. Cala Bassa – Vibrant Energy
Why go: Cala Bassa is a bustling beach, renowned for its lively atmosphere and the vibrant energy of the iconic CBbC. Despite the crowds, it offers a unique blend of excitement and relaxation.
What to do: Delight in a delicious meal at beachside restaurant CBbC, take a dip in the clear waters, and embrace the fancy vibes.
Feel the soft sand beneath your feet, listen to the soothing sounds of the sea, and let the gentle breeze envelop you. While it may be busy, the beach's allure lies in the lively ambiance fostered by CBbC. As the sun sets, casting a warm glow, Cala Bassa transforms into a vibrant spot where both locals and visitors gather to enjoy the lively surroundings and the energetic spirit of CBbC.
Restaurant – Cala Bassa Beach Club
Cala Bassa Beach Club, or CBbC, is the epitome of beachfront luxury on Ibiza. With chic design and panoramic views, it offers a stylish haven on Cala Bassa Beach. CBbC stands out not just for its aesthetics but also for its culinary offerings. Indulge in Mediterranean-inspired dishes at the beachfront restaurant or sip signature cocktails at the bar. The beach club's allure extends from daytime relaxation to vibrant evenings, often featuring live performances and special events against the backdrop of the Ibiza sunset. Just. make sure to make a reservation far in advance in summer.
5. Cala Salada: Turquoise Getaway
Why visit: Cala Salada offers a clear turquoise sea surrounded by green hills. It is a beautiful oasis and a favorite spot for snorkelers.
What to do: Rent a boat to explore secluded coves or just relax on the quiet beach.
Cala Salada, a pristine jewel on the west coast of Ibiza, guarantees crystal-clear waters and peaceful surroundings. This beach is perfect for those who long to the natural beauty of the island.
Rent a boat
The turquoise waters of Cala Salada are inviting and offer a refreshing contrast to the green surrounding landscape. Spend a day on the soft sand, surrounded by the scent of pine trees, and let the stress of daily life be washed away by the calm waves of the Mediterranean Sea. For the adventurous, renting a boat offers the opportunity to explore secluded coves, where you will find the privacy that is almost impossible to achieve on busier beaches. Cala Salada is the epitome of peace and serenity, a place where time seems to stand still and nature plays the leading role. Another reason to visit Cala Salada by boat is the limited parking and long stairs down to the beach. 
6. Cala Saladeta: A hidden gem
Why visit: A secluded gem on the west coast of Ibiza, Cala Saladeta enchants with azure waters, fine white sand and a serene ambiance.
What to do: Explore the underwater world with snorkeling, take a short walk to nearby Cala Salada for local eateries.
Cala Saladeta, located on the west coast of Ibiza near San Antonio, is a small, secluded beach. Access it through a short but adventurous walk from the nearby Cala Salada. What makes it so special is its pristine natural beauty and intimate atmosphere.
Perfect for snorkeling
High, rocky cliffs embrace Cala Saladeta beach. This makes it an enclosed cove with azure waters and fine, white sand. The lack of large facilities adds to the peaceful ambiance. The shallow waters of Cala Saladeta are ideal for snorkeling. The rocky edges of the beach offer perfect spots to enjoy the sunset, making Cala Saladeta one of Ibiza's best beaches for those seeking a peaceful escape.

Experience the beauty of Ibiza's coastline in the most enchanting way possible – by renting a boat and creating your own adventure on the Mediterranean waters. Whether you're looking for a peaceful day of exploration, want to discover hidden coves, or wish to indulge in the vibrant energy of beach clubs accessible only by sea, our boat rental service is your gateway to an unforgettable maritime journey. We offer private boat charters with a capacity up to 90 people!
7. Aguas Blancas: Natural Beauty
Why visit: Aguas Blancas is surrounded by high cliffs and is known for its beneficial mud. The beach is less crowded and ideal for those seeking natural beauty and enjoy surfing.
What to do: Take a mud bath, explore the cliffs, and enjoy the calm seawater.
Nestled on the east coast of Ibiza, Aguas Blancas reveals the pristine beauty of nature in a way that few other beaches can match. It is an oasis of tranquility, surrounded by high cliffs and the calm Mediterranean Sea.
Benefical mud
The beach takes its name from the white foam of the waves that reach the shore, offering a picturesque view against the backdrop of the impressive cliffs. Aguas Blancas is famous for its beneficial mud, full of minerals, perfect for rejuvenating mud baths enjoyed by visitors. The sand is golden, the water is clear and the views of the surrounding cliffs are breathtaking. Aguas Blancas is a destination not to be missed in Ibiza.
8. Las Salinas: Relaxing and Chic
Why visit: A hot spot for jetsetters, Las Salinas offers a mix of trendy beach clubs and salt flats.
What to do: Relax on luxurious loungers, enjoy cuisine at chic restaurants and stroll along salt flats.
The jet set is drawn to Las Salinas, located at the southern tip of Ibiza. Considered one of Ibiza's best beaches. With its glamorous appearance surrounded by lush pine forests, this beach offers a unique combination of chic beach clubs and the historic salt flats that give the area its name. In addition, luxurious loungers invite you to relax while soaking up the sun at fashionable beach clubs such as Jockey Club. Secondly, another favorite (slightly less fancy) spot is Sa Trinxa.
Salt Flats
What makes Las Salinas extra special is the exploration of the salt flats. A walk along the edge reveals the ancient practice of salt mining, with the white pyramids of salt forming a visually impressive spectacle against the clear sky. These historical elements add a deeper layer of glamour and showcase Ibiza's rich history. Make sure to look out for flamingos!
At night, Las Salinas comes alive with lively music from the beach clubs, creating a vibrant atmosphere that is the perfect contrast to the serene days. In essence, Las Salinas is not just a beach; it is a lifestyle destination that uniquely embodies the diversity and natural beauty of Ibiza.
9. Cala d'Hort – A Picturesque Gem on Ibiza's Coastline
Why visit: Cala d'Hort is a stunning natural beauty. It offers a panoramic view of the mysterious Es Vedrà island. It's simply a must-visit destination.
What to do: Relax on the sandy shores, savor a meal at the beachside restaurants, and soak in the breathtaking views of Es Vedrà.
As you step onto the sands of Cala d'Hort, the enchantment of this beach unfolds. The captivating sight of Es Vedrà rising majestically from the sea adds a mystical touch to the landscape. Cala d'Hort is a beautiful escape, where visitors can unwind in a with magnificent views.
Restaurants and Views
Indulge in the culinary delights offered by the beachside restaurants, such as Restaurant Cala d'Hort, Restaurant El Carmen and Es Boldado. Here you are able to treat your taste buds to fresh seafood and local specialties. Please be aware that these restaurants are not open in winter. The backdrop of Es Vedrà creates a magical ambiance, especially during the sunset hours when the sky is painted in warm hues. Cala d'Hort is a picturesque retreat, inviting you to savor the beauty of Ibiza's coastline in a relaxed and natural setting.
10. Cala Vadella – A Popular Haven on Ibiza's Western Shore
Why visit: Cala Vadella captivates with its popularity, vibrant atmosphere, and breathtaking sunsets, making it a great destination along Ibiza's western coast. The lively beach, surrounded by low hills, offers a picturesque setting that attracts both locals and visitors.
What to do: Rent a boat and discover the beautiful coves and nearby beaches by boat.
Cala Vadella unfolds as a popular haven on Ibiza's western coast, drawing crowds with its lively atmosphere and stunning sunsets. Unlike secluded spots, this beach is embraced for its vibrant energy and the dynamic mix of visitors it attracts. The sheltered bay, nestled between low hills, provides a stunning backdrop for a day of sun, sea, and socializing. The beach's popularity is evident in the vibrant activities that unfold along its shores. Water sports enthusiasts can indulge in various activities, from paddleboarding to jet skiing, adding an extra layer of excitement to the beach scene. The bustling promenade, lined with shops and cafes, invites exploration, making Cala Vadella not just a beach but a lively coastal hub.
Seaside Socializing
Cala Vadella is home to a variety of beachfront restaurants, offering diverse culinary delights and refreshing beverages. Whether you're savoring traditional Spanish dishes or international flavors, the beachside eateries contribute to the lively gastronomic experience. As the sun sets, these venues transform into social hubs. This creating an electric atmosphere for those seeking both relaxation and social connections.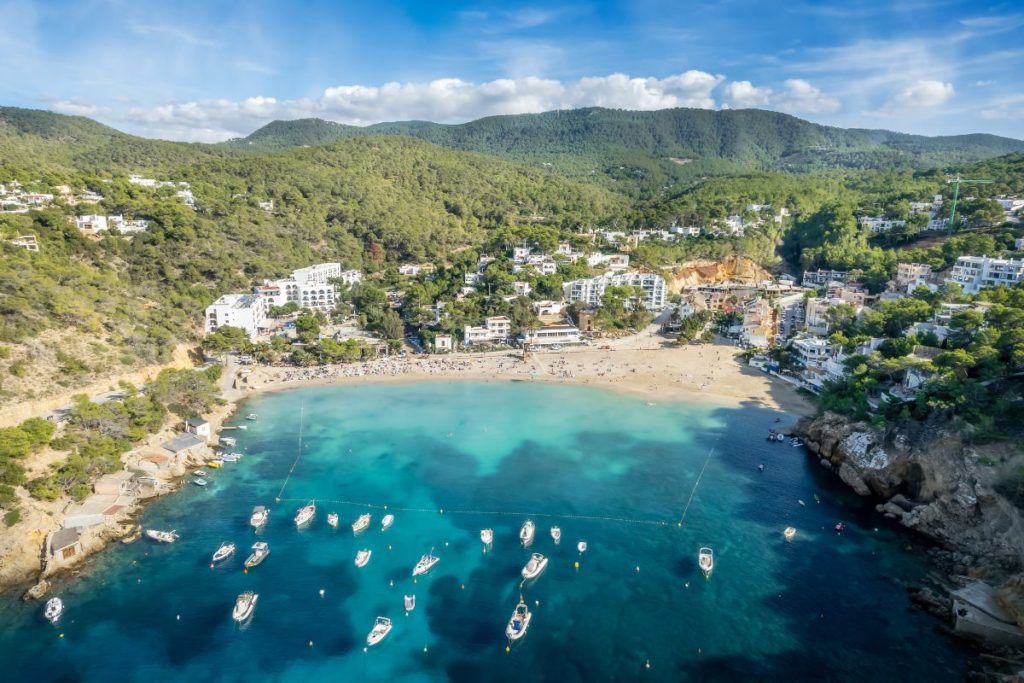 11. Cala Xarraca – A Tranquil Oasis on Ibiza's Northern Shores
Why visit: Cala Xarraca has a serene ambiance, clear turquoise waters, and natural beauty. This makes it a tranquil oasis tucked away on Ibiza's northern shores. This lesser-known cove attracts those seeking a quieter escape, away from the bustling crowds.
What to do: Delight in the peaceful surroundings, take a dip in the crystal-clear waters, explore the rocky coastline and relish the serene atmosphere. Cala Xarraca is a haven for those desiring a more secluded and laid-back beach experience.
The cove's allure lies in its untouched beauty, with clear turquoise waters gently lapping against the shore. Cala Xarraca's rocky coastline adds a touch of rugged charm, providing opportunities for exploration and discovery. Surrounded by pine-covered hills, the beach exudes a sense of seclusion, creating a haven for relaxation and contemplation.
Restaurant
Cala Xarraca features a beachfront restaurant, providing visitors with the convenience of seaside dining. The restaurant offers a selection of dishes, allowing beachgoers to enjoy a delightful meal with scenic views of the Mediterranean. This culinary addition enhances the overall beach experience, giving visitors the opportunity to savor delicious fare while immersed in the tranquil surroundings of Cala Xarraca.
12. San Antonio Beach: the best place to rent a boat
San Antonio Beach, situated on the western coast of Ibiza, is a magnetic draw for those seeking a balance between vibrant beach life and breathtaking sunsets. With its golden sands and crystal-clear waters, this beach provides a laid-back setting to unwind, oak up the Mediterranean sun and people watching.
Whether you choose to stretch out on the sand, take a leisurely swim, or relish the sunset with a refreshing drink in hand, the beach offers a perfect blend of relaxation and excitement. Explore the nearby waterfront establishments for a taste of local cuisine and cocktails.
Rent a boat
The beach's strategic location provides easy access to some of Ibiza's most beautiful and secluded beaches. Embark on a nautical adventure to explore the hidden coves, pristine waters, and enchanting landscapes that make Ibiza a renowned destination. Renting a boat from San Antonio isn't just a means of transportation; it's a gateway to the island's treasures. Cruise along the scenic coastline, discovering tucked-away beaches and secluded spots that can only be accessed by boat. Whether you're seeking a peaceful day on the water or an exploration of Ibiza's famed beach scenes, San Antonio Beach serves as the ideal starting point for an unforgettable maritime experience. Utopia Ibiza offers private boat hire for big group, including beer, cava, sangria and even fresh made paella, salad and dessert. There is an amazing music sound system and various swim stops at the most amazing sports. Have a look at our offerings.
13. Playa d'en Bossa: Party till Sunrise
Why visit: For partygoers, Playa d'en Bossa is the place to be. Here you'll find iconic beach clubs and vibrant parties that go on until the early hours.
What to do: Visit clubs like Ushuaïa Beach Club, Hï or The Hard Rock Hotel.
Party
Playa d'en Bossa, the beating heart of Ibiza nightlife, is the ultimate playground for party lovers. This lively stretch of sand stretches along the coast and offers an unparalleled combination of sun, sea and partying. Here, visitors from all over the world gather to dance, enjoy live music and party until the sun rises again.
The iconic club Ushuaïa and Hï are one of the main attractions, where world-famous DJs thrill the crowds with rousing beats. If you prefer a more relaxed atmosphere, the chic beach bars along Playa d'en Bossa offer the perfect place to enjoy a cocktail while admiring the sunset. The party never stops here, and for those who crave non-stop festival time, Playa d'en Bossa is the place to be.
14. Es Cavallet: Beautiful and Gay Friendly
Why visit: Es Cavallet is known for its diversity and is a favorite spot for the LGBTQ+ community. The beach is surrounded by dunes and a protected natural area – one of the best beaches ibiza.
What to do: Enjoy the relaxed atmosphere, try water sports and dine at upscale beach restaurants.
Es Cavallet, a picturesque piece of paradise on the southeastern coast of Ibiza, welcomes visitors with open arms. Known for its LGBTQ+ friendliness, this beach offers a relaxed atmosphere amid pristine nature.The dunes of Es Cavallet create a beautiful contrast to the clear blue sky and form a protected natural zone that provides a sense of seclusion. Es Cavallet is also popular with naturists, and much of the beach is dedicated to those who prefer to enjoy the sun and sea without swimwear.
Water sports
Water sports enthusiasts will also find their niche here, with opportunities for windsurfing and kayaking. After a day of sun and activities, relax at one of the chic beach restaurants, which serve delicious Mediterranean dishes overlooking the sea. 
Restaurant – La Escollera
Specializing in fresh seafood and authentic Spanish dishes, this restaurant offers a delightful gastronomic experience. What sets it apart is the opportunity to dine on the sandy beach, creating a unique and immersive dining ambiance. Whether you're seeking a leisurely lunch or an exquisite dinner, La Escollera Ibiza combines impeccable cuisine with a breathtaking seaside setting, making it a must-visit destination for discerning food enthusiasts.
15. Cala Jondal – Jet Set Bliss and Beach Party Vibes
Why visit: Renowned as a jet-setter's paradise, Cala Jondal beckons with its upscale ambiance and vibrant beach party scene. Nestled on the southwestern coast of Ibiza, this Mediterranean gem is favored by those seeking luxurious beach experiences and glamorous parties.
What to do: Indulge in the glamorous atmosphere of Blue Marlin Ibiza, an iconic beach club synonymous with the island's elite lifestyle. Dive into the azure waters, unwind on plush sunbeds, and soak in the pulsating energy of the beach.
As you walk on the pebbly shore, feeling the breeze and soaking in the cool vibes, Cala Jondal shows off its charm. Loved by locals and trendsetters, this beach is all about being posh while enjoying nature.
Beach Parties and Clubs
Cala Jondal throws awesome beach parties that attract people from everywhere. Tropicana Beach Club is a great spot where the relaxed day vibe turns into a lively dance floor at night. The music and energy make it a top place for unforgettable beach party fun. Cala Jondal is the place to feel fancy and have a blast at beach parties. Whether you're sipping drinks at fancy beach clubs or dancing to DJs.
Explore the beach's vibrant scene further by checking out other notable beach clubs. From the stylish vibes of Yemanjá Beach Club to the laid-back sophistication of El Chiringuito and new favorite Jondal. Cala Jondal offers a diverse range of options for those seeking upscale beachfront experiences.
Exploring the beautiful beaches of Ibiza is an unparalleled experience, each cove and stretch of sand offering its unique charm. From the serene shores of Aguas Blancas to the vibrant atmosphere of Cala Comte, the island is a paradise for beach lovers and sun-seekers. Imagine cruising along the coastline, discovering hidden coves, and basking in the beauty of Ibiza from the deck of your own boat. Make sure to follow us on Instagram for up to date local tips for a memorable Ibiza experience.
Ready to turn your beach exploration into an unforgettable adventure?
Rent a boat with Utopia Ibiza and experience the island's beauty from the sea. Click here to book your boat and set sail on a personalized journey to Ibiza's finest beaches.